Permanent link to this article: https://www.haitiannetworkdetroit.org/latest-newsletter/
Celebrate Haiti's 217 years of independence while savoring Soup Joumou and Patés! January 17th, 2021 – 2pm – 4pm.
Because of the restrictions around COVID-19, we will only offer curside pickup.
RSVP REQUIRED by January 12th at 248-514-6494 or info@haitiannetworkdetroit.org
There is no cost for this event, however donations are welcome.
The 2021 Soup Joumou event is supported by the Bèl Bagay Lakay Haitian Art & Craft Festival.
We look forward to seeing you on January 17th! The HNGD Board.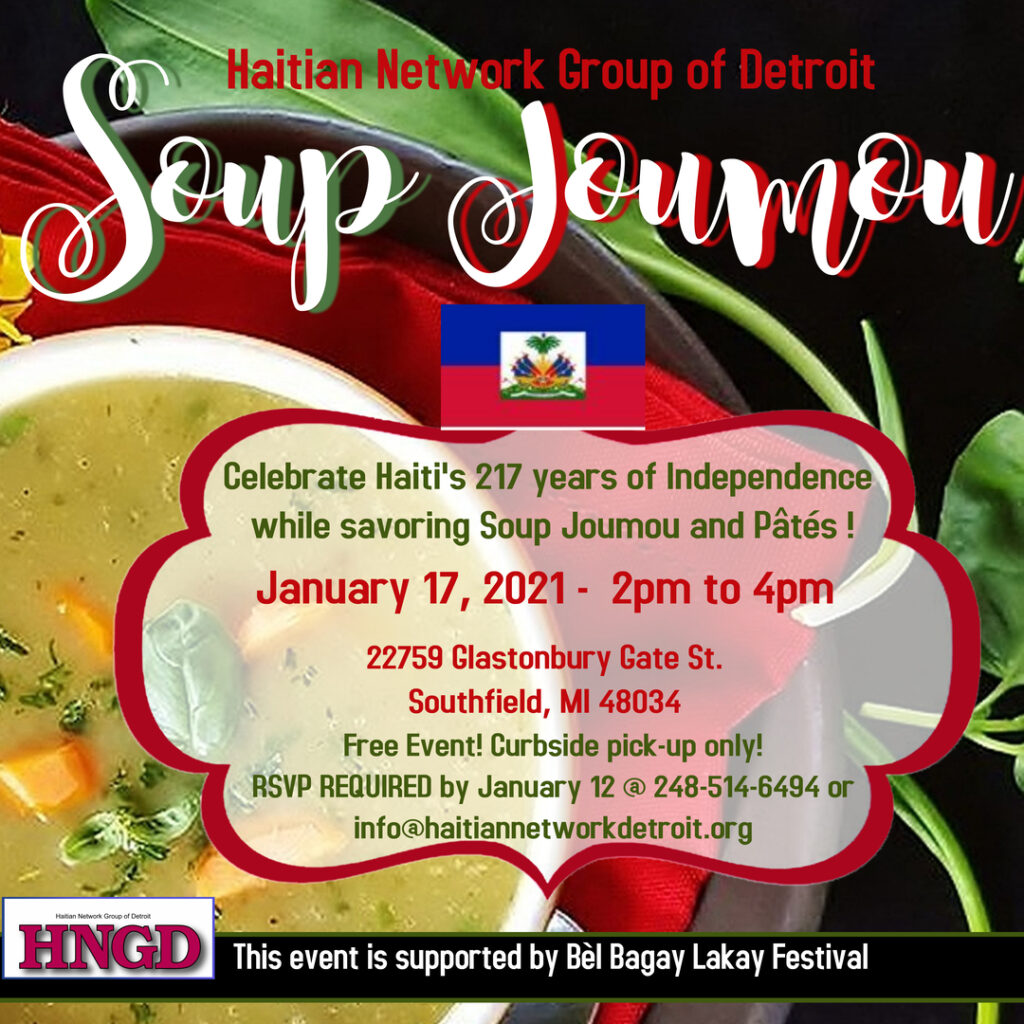 Permanent link to this article: https://www.haitiannetworkdetroit.org/soup-joumou/
Permanent link to this article: https://www.haitiannetworkdetroit.org/coronavirus/
Permanent link to this article: https://www.haitiannetworkdetroit.org/haitian-history/
Permanent link to this article: https://www.haitiannetworkdetroit.org/black-lives-matter/
Permanent link to this article: https://www.haitiannetworkdetroit.org/pics-from-2019bel-bagay-lakay-festival/
Permanent link to this article: https://www.haitiannetworkdetroit.org/interview-with-author-mitch-albom/
Permanent link to this article: https://www.haitiannetworkdetroit.org/save-these-july-dates/
Permanent link to this article: https://www.haitiannetworkdetroit.org/enjoy-previous-hngd-art-festival-pics-videos/
Permanent link to this article: https://www.haitiannetworkdetroit.org/join-us-for-a-haitian-inspired-dinner-by-chef-christian-noel/